TOP > PRODUCTS

DESOLDER/PB FREE

TOP-450
DESOLDERING MACHINE
LOW VOLTAGE 24V
DIGITAL DISPLY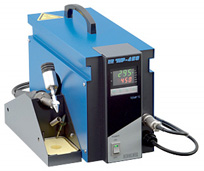 HIGH POWER 80W
RESPONSE TO Pb free solder
HEATER TURBO
ESD
DIGITAL TYPE
For thermo control…TOP-450
CHOSEN DESOLDER FOR EVERY ENGINEER
MECHANICAL COMPONENTS
NO SOLDER CLOG

The tip is mode shorter than standard model. (60% length)
The tip pipe goes straight to a tank without joint part.
No air leaking and keeps suction maximum.

BIG POWER AND HEATER TURBO FUNCTION

Big tip capacity, big heat capacity.
The heater is turned ON automatically when sucking to keep tip temperature continue for Pb free desoldering.

PID THERMO CONTROL

Built in CA sensor in the solder tip.
The solder tip temperature is controlled with high response feed back zero cross SSR PID thermo controller to keep the solder tip temperature continue.

ONE - TOUCH CLEANING

Easy to clean up the solder tank and change the filter.
Just only remove a cap.
No solder sticking special stainless steel cartridge filter.

COMPARISON SOLDER TIP TEMPERATURE(Cooper plate0.5t×100×100)

COMPARISON DATE

Temperature decrease during SUCTION

compared with conventional product

THERMO CONTROL

Temperature feed back under load by builting in CA sensor in the solder tip and digital display.

24 VOLT A.C. LOW VOLTAGE HEATER

Equipped 80 watts ceramic, heater drives at 24 volt.
High isolate resistance makes good effect for high density LSI, etc. to protect from destruction of IC.
Specifications
Please see here. (It opens in a new window. )
※Our company receive an Order. Your request power supply 115 220v the above All items